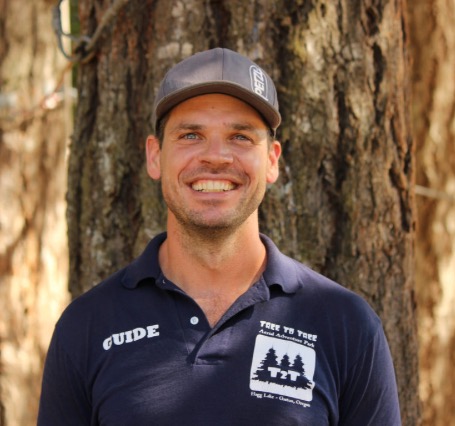 Facilitation Manager at Tree To Tree Adventure Park and Snowboard Instructor at Mt. Hood Meadows. Graduated from Southern Oregon University with a B.S. in Health and Physical Education and a Minor in Philosophy with an emphasis in Outdoor Leadership Education.
Jason has been involved in the Challenge Course and Adventure Park world for 20 years and has a passion for facilitating shared experiences that inspire growth and create bonds between people. He notices a lot of disconnect in the world and is motivated to connect people through experiential education, philosophy, adventure parks, and numerous other team building challenges. Jason hopes to promote genuine interaction through healthy engagement and group bonding.
Living all his life both in Oregon and Washington, Jason is a genuine child of the Great North West. He developed a passion for working with people while attending the Outdoor Adventure Leadership Program at Mt. Hood Community College. During his mountaineering, rafting, and rock climbing adventures, Jason discovered that he was significantly drawn to the practice of facilitating others through these types of shared experiences.
Since then, Jason earned his B.S. in Health and Physical Education from Southern Oregon University and has continued to learn and grow in the Challenge Course/Adventure Park industry. His skills and knowledge of facilitating a wide range of groups, building zip lines and training guides has been strongly developed over the years. On his days off Jason enjoys trail running, dancing and doing outdoor activities with his son, Crosby.